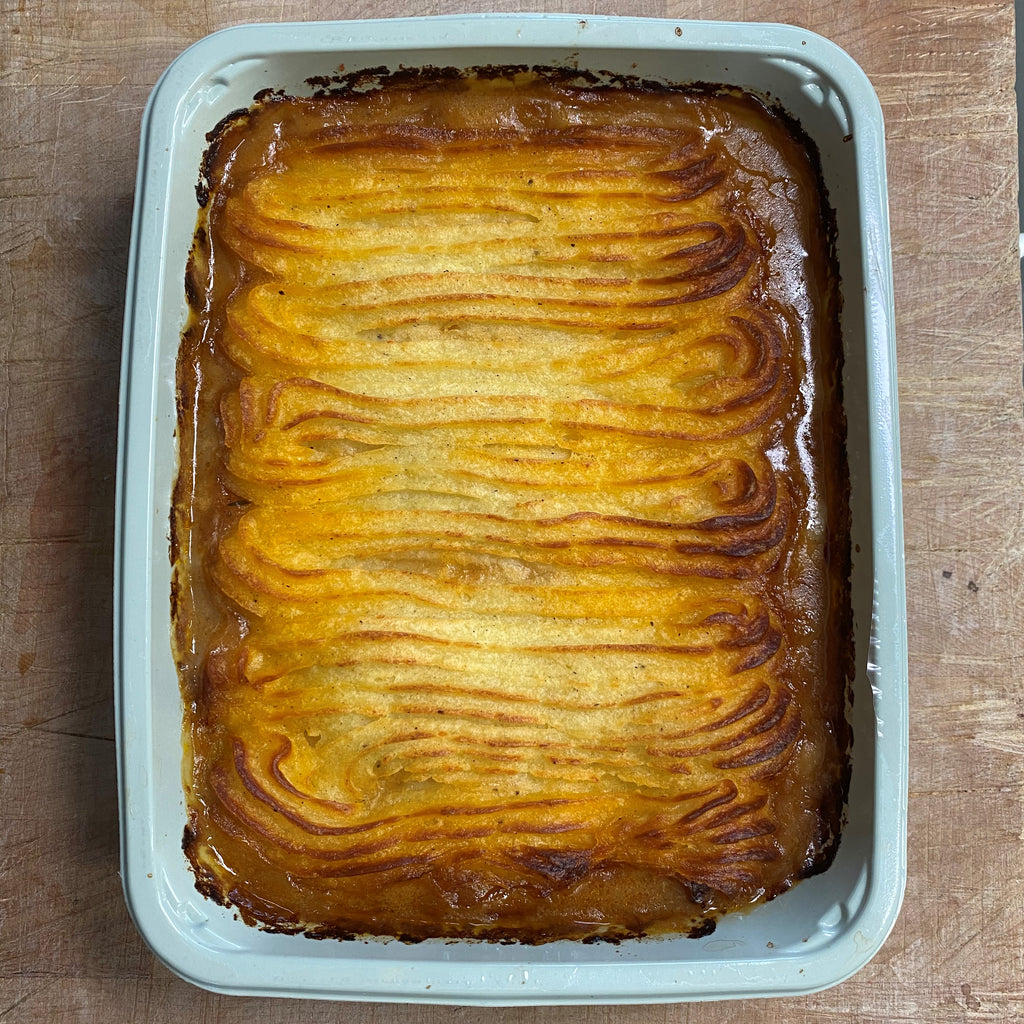 (serves 4-6)
Ingredients: 
700g lamb mince 
2 carrots
3 onions
2 sticks of celery
2-3 sprigs of rosemary
1 tbsp Worcestershire sauce  
1 tbsp tomato purée
2 tbsp flour (you can use gluten free flour also) 
75ml red wine
500ml beef stock
250ml veal jus
Salt and pepper to taste
For the mash:
1.5kg potatoes
100g butter 
50ml cream
2 egg yolks 
Salt and white pepper to taste
Method:
Preheat the oven to 180 deg C.
Start by finely dicing the onion, carrot and celery. 
Put a large sauce pan or deep frying pan on a medium heat and add a small amount of oil. 
Add the lamb mince in and spread out, season with salt and pepper. 
Turn up the heat and brown the mince all over, stirring occasionally to break it up. 
When brown add the vegetables and reduce the heat to a low heat, season again and cook out for 10-15 mins until the veg is soft.
Finely chop the rosemary and add to the pan along with the Worcestershire sauce. Once the veg is soft add the tomato purée and the flour, turn up the heat and cook the purée and flour out for 2 mins.
Add the red wine and reduce, then add the stock and veal jus and reduce the liquid by at least half. 
Cook for another 20 mins on a low heat. 
When cooked and seasoned to your liking add the mince to a baking dish deep enough to take all the mince and mash potato. Add in the mince mixture and allow to cool, this will make it easier to put the mash on top, if your mince mixture is still warm and runny the mash will sink - this is an important step!
Now onto the mashed potato;
Peel and chop the potatoes into equal size pieces and add to a pot, cover with water and add a good tsp of salt. 
Bring to a boil then reduce to a simmer and cook the potatoes until soft. 
Strain the potatoes and return to the pot with the butter and cream and mash really well. Season well with salt and pepper and then when slightly cooled add the egg yolks, these give the potatoes a lovely rich consistency and also it will help with a slightly crispy top. 
When your mash is ready, pipe or spoon it over the cooled mince mixture and then it goes straight into the oven. Cook for 25-30 mins until bubbling and it's good to go. 
Serve with a generous serving of garden peas.