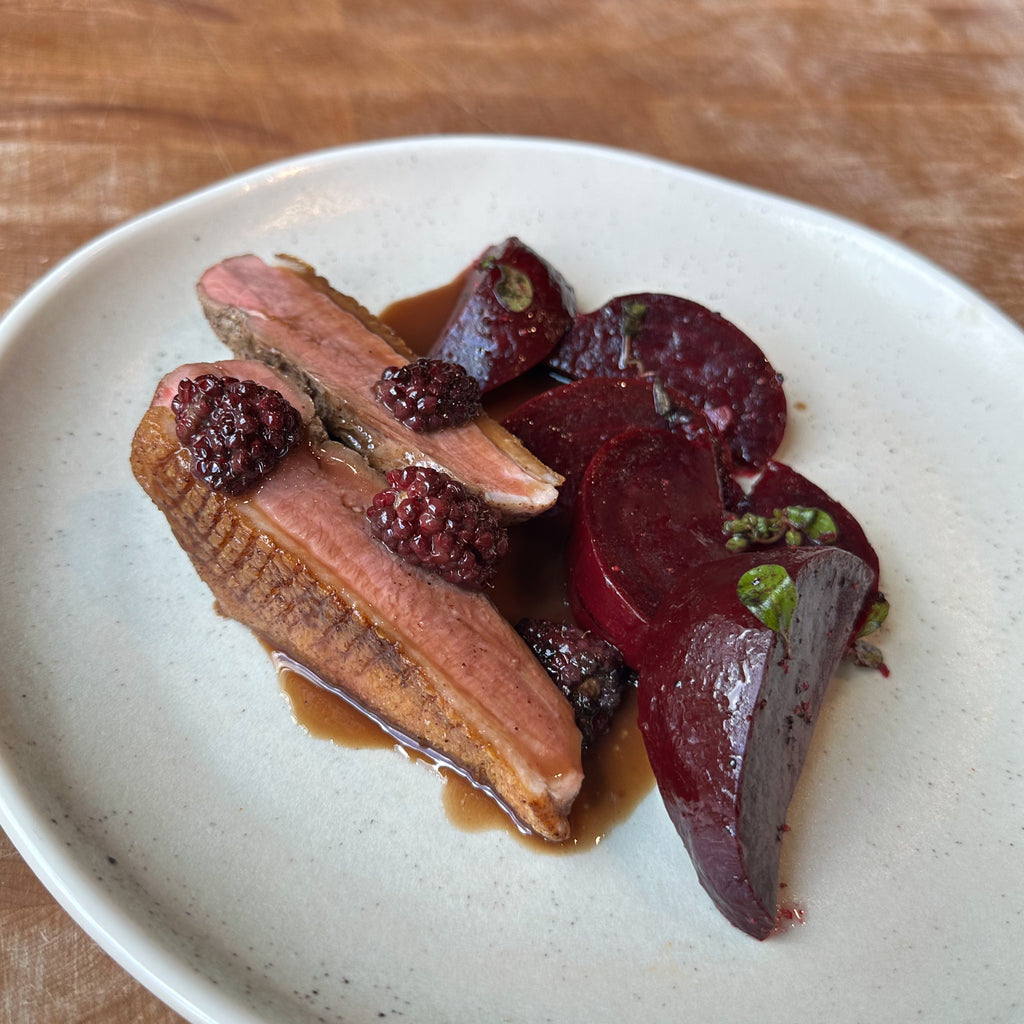 serves 2
Ingredients: 
2 duck breast 
3-4 beetroot
10g Marjoram
30ml olive oil 
1 lemon 
½ punnet blackberries halved
175ml red wine 
1 shallot
2g thyme 
1 clove garlic 
1 pouch beef stock 
1 tsp sherry vinegar 
80g unsalted butter
½ tsp mace 
Salt & pepper to taste 
Method:
Start by roasting the beetroots as they will take the longest. Preheat the oven to 180deg C. Take a large piece of tin foil and place the beetroots along with some olive oil and about 2 tablespoons of salt in the foil. Wrap up and bake in the oven for 1.5 hours or until a knife goes through easily. Leave to cool.
Take the duck out of the fridge and score the fat with a knife only slightly, you don't want to go as far down as the flesh, this is to help render out some of the fat as it cooks. Leave this out for around 10 mins to come up to room temp before cooking.
Season with salt and a small pinch of mace, place in a cold dry pan skin side down. Turn the heat to medium and cook almost entirely on the skin side for 12-15 mins.
Then for the last two minutes flip onto the flesh side to cook to a blushing medium cuisson. Remove the duck from the pan and allow to rest. In the same pan, remove most of the fat from the pan and add the diced shallot, garlic and thyme, cook until soft and then deglaze with the red wine. Reduce this down until it is almost gone and then add the beef stock and reduce by half. Once reduced to a nice glossy sauce add the halved blackberries, salt and pepper and then add one or two small knobs of butter to enrich and thicken the sauce.  
While the beetroot is still warm, remove the skin and dice into wedges. Mix the marjoram with the juice of the lemon, olive oil and salt and pepper and dress the warm beetroot with this.
To plate add a portion of the dressed beetroot to the plate, slice the duck breast and add to the plate. Lastly spoon over the sauce.