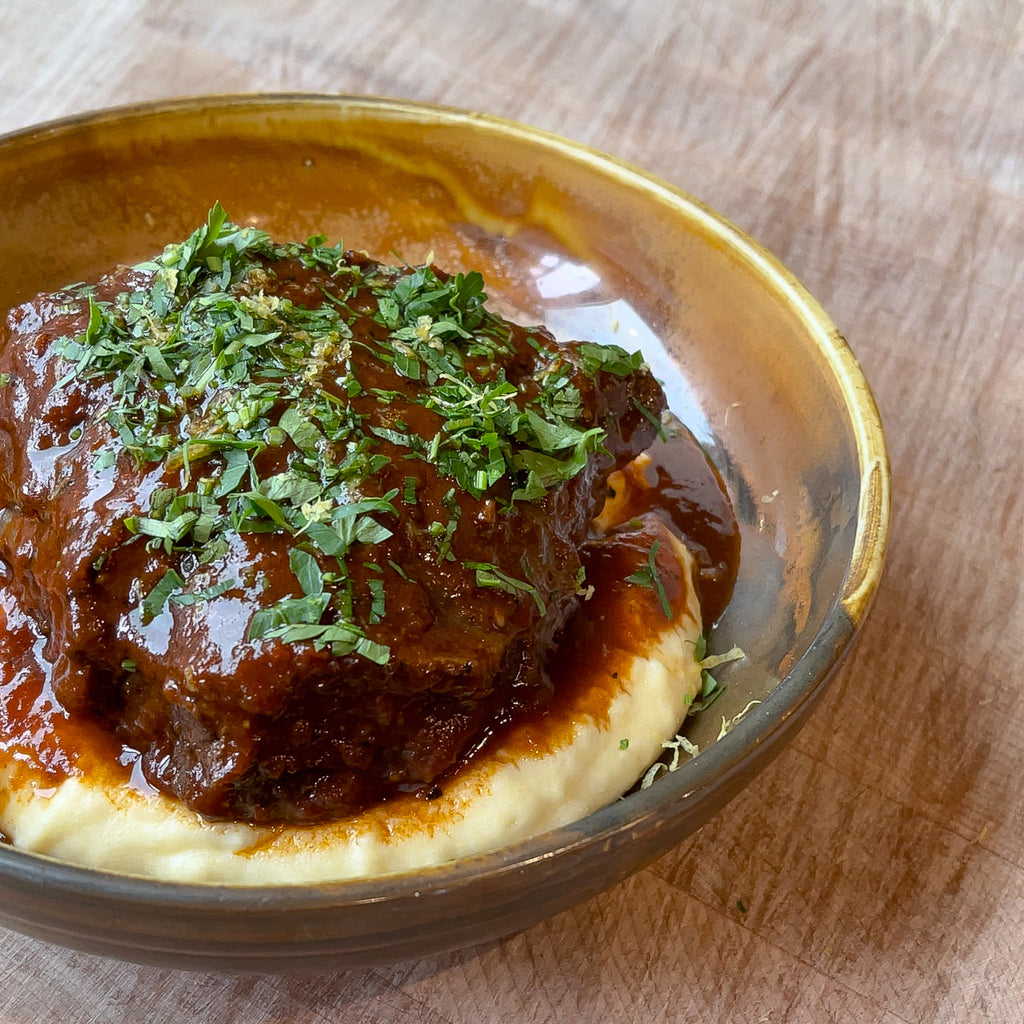 Serves 4
Ingredients: 
4 ox cheeks 
2 carrot 
2 onion
3 sticks of celery 
2 bay leaves
3 cloves garlic (lightly crushed)
5g thyme 
5g parsley 
1 tbsp tomato puree 
1 tin of tomatoes 
500ml beef stock
250ml red wine 
salt & pepper to taste
For the Polenta:
250g polenta 
1 litre milk 
500ml chicken stock 
100g parmesan 
100g butter
salt & pepper to taste
Method:
Preheat the oven to 140 deg C.
Season the beef cheeks with salt and pepper. Placing a large pan on a medium high heat and add a small amount of oil. Sear the cheeks all over to get them brown all over.
Remove the cheeks from the pan and add the chopped carrot, onion, celery, garlic, and herbs to the same pan, cook them for 4-6 mins. Once they have a little colour, add the tomato puree and cook for a further 1 minute. Add the red wine, scrape the bottom of the pan with a wooden spoon to remove the goodness from the base of the pan. 
Reduce the wine until almost gone and add the beef stock and the tin of tomatoes.
Transfer all the sauce and the cheeks to an ovenproof dish and cover with greaseproof paper and tin foil and place in the oven for 3-4 hours or until the cheeks can be broken apart with a spoon.
Now for the polenta. While the cheeks are cooking, put a large saucepan on a medium heat and add the milk and chicken stock, season with a good pinch of salt and bring to the boil, when boiling. Add the polenta in a slow steady stream and reduce the heat down to low. Take care here because if the heat is too high the polenta will begin to bubble and spit like a volcano.
Cook on a low heat for 25-30 mins or until the taste is less grainy. If it gets too dry while cooking you can add some more water, aim for an oozy consistency.
Once cooked add the butter and parmesan cheese to the polenta and stir together well. Check for seasoning and when to your liking cover the pan with some foil and keep warm.
Once the cheeks are ready I like to remove them from the sauce, strain all the sauce through a sieve into a pan, making sure to squeeze out as much goodness out of the veg as possible. Reduce the leftover liquid on a medium heat until it's nice and glossy. Add the cheeks back in and lower the heat. Spoon the sauce all over the cheeks so they are covered all over.
To serve, add a nice ladle full of the polenta to a bowl and top with the beef cheeks. I like to garnish with some chopped parsley and some freshly grated lemon zest.